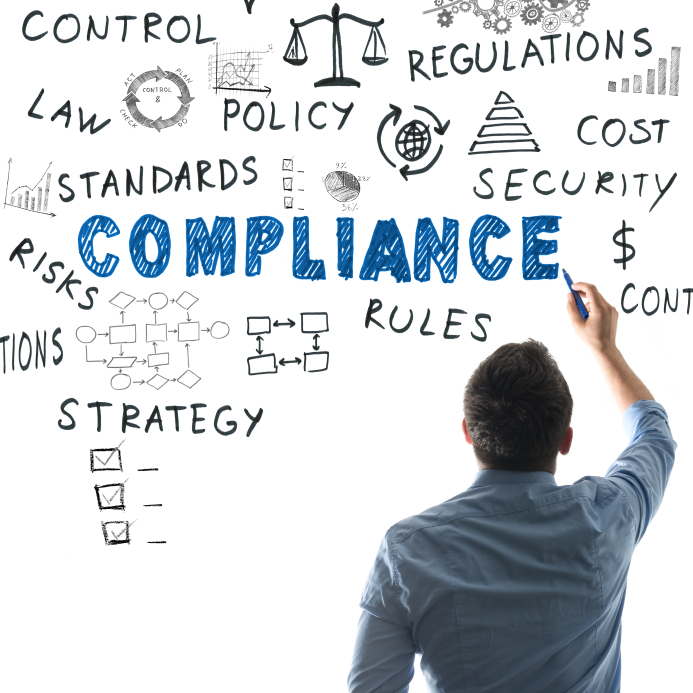 IT Compliance & Auditing
---
Compliance is a vital requirement for organizations in government, DOD contracting, healthcare and financial markets. We take your compliance needs seriously. Our industry-leading compliant managed services are specifically designed to deliver security, performance and peace of mind to your organization. Our goal is not just to meet the requirements dictated by ITAR, HIPAA, PCI DSS, SOX and FISMA, but to ensure a compliance record that reaffirms the security and integrity of your organization.
Achieving compliance independently is a major challenge for most companies. Regulations constantly change, making it difficult for organizations to know the latest requirements, and even more challenging to meet these standards. This puts organizations at risk of fines, sanctions and various other penalties. Furthermore, trying to remain compliant can occupy a huge percentage of an IT department's time and energy, preventing personnel from pursuing higher-level projects. By taking advantage of Z7's compliance management services, businesses can outsource this responsibility, reducing risk and maximizing in-house performance.
The Z7 cloud platform delivers the exceptional flexibility and performance of dedicated application installations while providing for the elasticity and scalability of a traditional public cloud model.
Dedicated Virtual Servers
Flexible Configuration
VPN, MPLS, Private Link, Internet Connectivity
Fully Managed
Turnkey Solution
Encryption at Rest
Compliant IT Management
Deployed on audited and certified infrastructure and in secure, audited and compliant data centers, our Z7 platform enables regulated industries to embrace cloud services.
ITAR
Z7 supports US International Traffic in Arms Regulations (ITAR) compliance. As a part of managing a comprehensive ITAR compliance program, companies subject to ITAR export regulations must control unintended exports by restricting access to protected data to US Persons and restricting physical location of that data to the US. Z7 provides an environment physically located in the US and where access by personnel is limited to US Persons, thereby allowing qualified companies to transmit, process, and store protected articles and data subject to ITAR restrictions.
HIPAA
Z7 enables covered entities and their business associates subject to the U.S. Health Insurance Portability and Accountability Act (HIPAA) to leverage the secure Z7 compliant cloud environment to process, maintain, and store protected health information. Additionally, Z7 is able to sign business associate agreements (BAA) with such customers.
FIPS
The Federal Information Processing Standard (FIPS) Publication 140-2 is a US government security standard that specifies the security requirements for cryptographic modules protecting sensitive information. To support customers with FIPS 140-2 requirements, SSL terminations in Z7's compliant cloud operate using FIPS 140-2 validated hardware.